Eagle Watching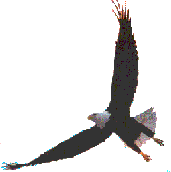 Come up to the Great River Road and see the winter home of the American Bald Eagle. Cross on the Winfield Ferry and witness this grand bird soaring above the river and bluffs. Hundreds of eagles spend winter along the banks of the Mississippi River from December through February. Bring your binoculars and camera. Dress warm!

Good viewing areas for eagles are along the Great River Road (Rte. 100) from Alton to Pere Marquette State Park or cross the Illinois River at Grafton on the Brussels State Ferry into Calhoun County or the Golden Eagle Ferry from St. Charles, Missouri into Calhoun County and go to the Winfield Ferry Landing just south of Lock 25 on the Mississippi River at Batchtown.

Below Winfield Lock and Dam 25 adjacent to the Winfield Ferry Landings is a prime fishing area for eagles during the winter months, especially when the rivers are frozen over. The turbulence from the dam keeps the waters open. There are an abundance of tall cotton-wood trees for roosting and catching stunned fish coming through the dam. Another good viewing site is from the Nature Conservancy platform adjacent to the lock wall the dam. The beset time to see eagles is shortly after sunrise. Remember, please do not interfere or harass the eagles in any way. They must conserve their energy for hunting and fishing.